The shares jumped 16 percent to $32.32 at 11:38 a.m. in New York, after earlier reaching $35, their biggest gain since December 2014. The rebound fell short of the company's close at $40.82 a share last week, which was reached before the study known as Rocket was stopped due to the deaths of three patients receiving Juno's JCAR015.
The Food and Drug Administration lifted its hold after the study was adjusted to reduce the toxicity of the therapy for hard-to-treat B cell acute lymphoblastic leukemia, a blood cancer, Seattle-based Juno said in a statement. Patients will be given a chemotherapy drug, cyclophosphamide, to prepare their bodies to receive JCAR015, a personalized anti-cancer therapy known as a CAR-T. The patients won't get another drug called fludarabine that was linked to fatal brain swelling when it was added to the treatment regimen.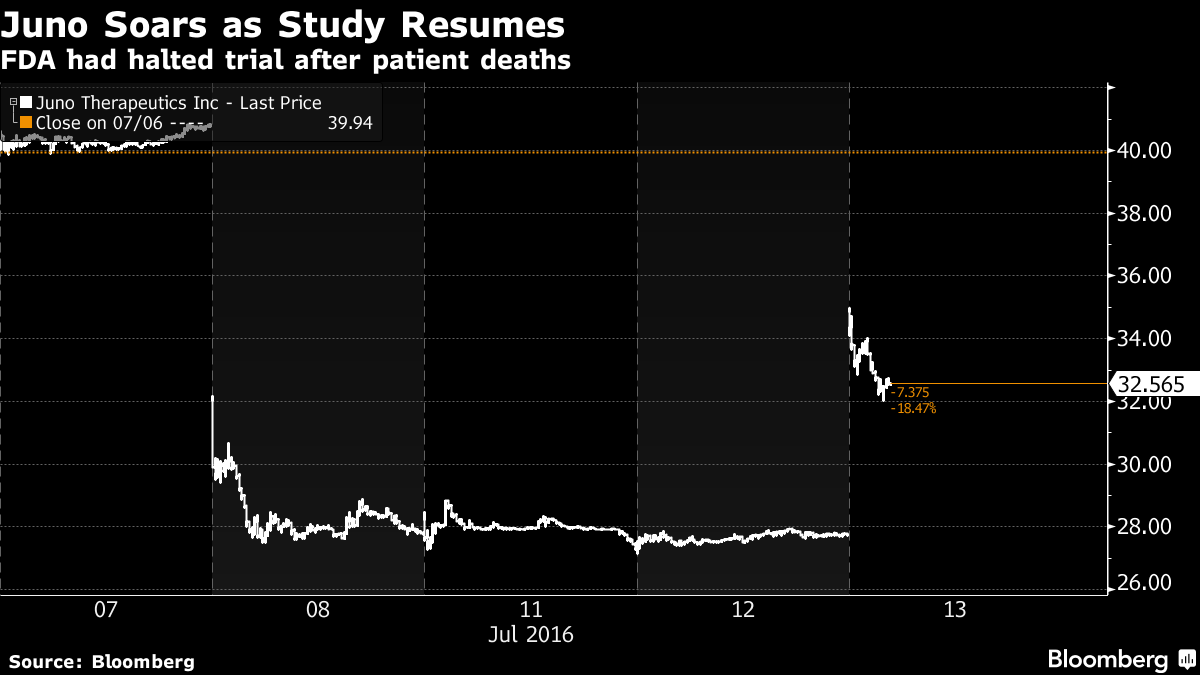 The deaths shocked the company and cancer researchers who were studying the treatment, which involves removing a patient's immune cells, genetically engineering them to recognize the cancer, and reinfusing them back into the body to fight it. The patients are given chemotherapy before the altered cells are returned to the body to make room for them to expand, a move that proved deadly during the trial when Juno added a second medicine intended to improve the treatment's success.
The durability of the therapy's benefit remains uncertain since fludarabine was considered a key component of the treatment, said Asthika Goonewardene, Bloomberg Intelligence analyst, in a note Wednesday saying the study was "in dire straits." The combination of chemotherapy agents led to better disease-free survival and longer responses than a single drug in previous studies, he said.
"The future of these drugs is in question because of the highly refractory nature of patients treated with CAR-T calls and the expected use of new oral agents in development," he said today in a note.
Toxic Mix
Juno Chief Executive Officer Hans Bishop said he believes it was the combination of all three therapies — JCAR015, cyclophosphamide and fludarabine — that created a toxic mix for patients. The two chemotherapy drugs haven't proven harmful in combination with the company's other CAR-T therapies, and there hasn't been any brain swelling seen in patients given only cyclophosphamide and JCAR015, he said.
It will take some time to implement the changes made to the study protocol, he said, and Juno will update investors on the therapy's development schedule in August. Bishop previously said the study hold would make it difficult for the company to meet its original goal of getting JCAR015 approved in 2017.
The FDA's decision to order the hold was based on the needs of patients, who are often very sick and have few treatment options, Bishop said.
"These patients need better therapies," he said. "If these are successful, they will change the therapeutic standard of care."